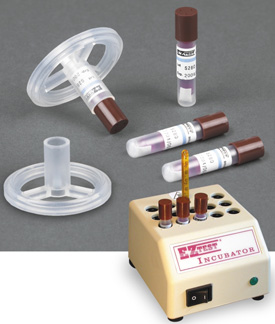 Rubber Fab Biological Indicator
Gaskets with EZTest Incubator
Contact Us
for more information
Rubber Fab's Biological Indicator Gasket enables the use of a self-contained biological indicator in sanitary process lines. This unique Smart Gasket permits either top loading or inline positioning of an EZTest self-contained biological indicator and/or a temperature probe.
The great advantage of a self-contained biological indicator over the traditional spore strip in glassine is the time saved when confirming spore kill. Results are easily obtained in only 24 hours (versus the five to seven days required with a spore strip) and without problematic laboratory transfer.
You can feel secure knowing that the biological indicator will not be lost downstream in the process. The fail-safe Rubber Fab Smart Gasket holds the indicator in place for easy retrieval. Available for ¾", 1", 1½", and 2" sanitary tri-clamp process lines.

Smart Gasket Technology
The Biological Indicator Gasket is also available with a Smart Gasket Thermocouple Port.
Validation of Steam Systems
Fermenters
Sanitary Inline Pipe
Pharmaceutical Tanks
Pharmaceutical Hose
Meets High Pharmaceutical Standards
Biological Indicator Gasket:
U.S. Pharmacopeia Class VI Certification
Cytotoxicity Criteria
CFR Title 21 Section 177.2600
Traceability: Lot and Batch
Certification: Lot and Batch
ASME-BPE Standards
USDA Standards
3-A Sanitary Standards
Current Good Manufacturing Practices (CGMP)
Metal-Detectable Elastomers available
Animal Derived Ingredient Free
EZTest:
U.S. Pharmacopeia
ISO 11138
European Norm 866