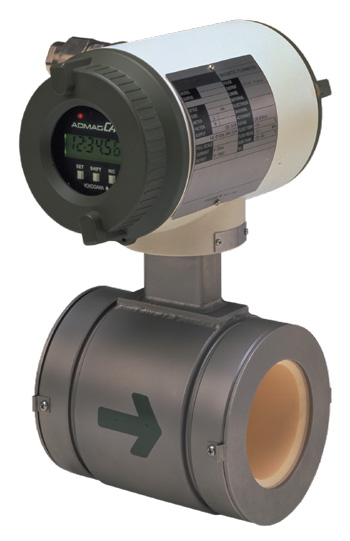 Yokogawa CA Flow Meter
Contact Us
for more information
ADMAG CA Flow Meters:
Accurately measure ultra-low conductivity fluids
ADMAG CA combines the original ADMAG benefits with a new "electrodeless" flowtube design, redefining the traditional application envelope. ADMAG CA is capable of measuring fluid conductivity down to 0.01µS/cm while completely eliminating electrode coating build-up.
ADMAG CA magnetic flowmeter is excellent at measurement in ultra-low conductivity fluids, adhesive fluids, or slurry fluids. ADMAG CA employs a non-wetted electrode construction, picking up the signal voltage by electrode plates provided outside a ceramic pipe through the capacitance of the pipe.
The CA Series features:
Non-wetted electrodes: Leak-proof, immune to adhesive and slurry fluids, with a wide measuring range starting at 0.01µS/cm of conductivity.
Excellent resistance to corrosive and abrasive fluids
Dual-compartment housing: Separates the wiring section from the electronics, and protects the electronics from corrosive environments.
Backlit LCD Display: High visibility for easy operation
High Accuracy: ±0.5% of flow rate in 1" – 4" (25 – 100mm) sizes
ADMAG CA Series Flow Meter Specifications
Nominal Pipe Size
0.5 – 8" (15 – 200mm)
Fluid Temperature
as much as 14° to 248°F (-10° to 120°C)
Ambient Temperature
-4° to 122°F (-20° to 50°C)
Accuracy
as high as ±0.5% of rate
Repeatability
0.1% of flow rate (1mm/s minimum)
Fluid Conductivity Threshold
0.1 µS/cm for sizes 0.5" – 4" (15 – 100mm)
1 µS/cm for sizes 6" – 8" (150 – 200mm)
Materials of Construction
Housing: Stainless steel
Pipe: Alumina ceramics
Earth Ring: Stainless steel, Hastelloy C, Titanium
Power Consumption
14W maximum (flow tube and converter combined)
Output Signals
Current, Transistor Contact, optional BRAIN
Diagnostics
Converter, flow tube, erroneous settings, etc.
Hazardous Area Classification
Class I, Division 1 explosion proof (FM and CSA)
Options
BRAIN communications, anti-corrosive coatings, mirror-finished ceramics, etc.
---