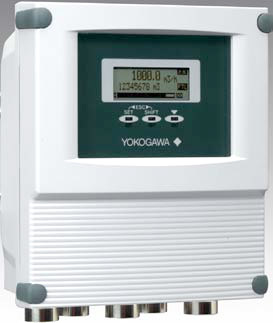 Yokogawa AXFA11 Magnetic Converter
Request a Quote • Request Free Information
AXFA11 Magnetic Converter for Remote Flowtube
The AXFA11 magnetic converter has been developed based on Yokogawa's decades-long experience in magnetic flowmeters. The AXFA11 continues the tradition of high quality and reliability that has become synonymous with the Yokogawa name and features an even higher level of performance and increased functionality.
In addition to all of the features and functions of the ADMAG series of converters, the AXFA11 offers an enhanced dual frequency excitation method as an option for difficult applications as well as new diagnostics to detect electrode coating. Combined with a flowtube utilizing the optional replaceable electrode design, the user benefits through the ability to schedule maintenance for reduced process downtime and in turn a lower total cost of ownership.
The AXF Series features:
Optional enhanced dual-frequency excitation method: A 165Hz high frequency component for very high concentration slurries, to ensure greater stability and quicker response.
Minimum fluid conductivity of 1µS/cm: With the newly designed AXF flow converter, improvements to the input circuit now permit the measurement of fluids with conductivity as low as 1µS/cm.
Diagnostics to detect insulating coatings on the electrodes: By constantly monitoring the change in the impedance of the electrode circuit due to the build-up of insulating soatings, the AXF converter will display 4 different levels of coating and provide an alarm function
Improved accuracy specification: The standard performance specification for AXF is 0.35% of reading. Optional high-accuracy calibration rated at 0.2% of reading is available.
Three line display with infrared switches: The LCD indicator employs a large, backlit, full dot-matrix display. One to three lines are available and these can be programmed to indicate a wide variety of display possibilities, including a bar graph for flow rate indication and a graphical representation of the extent to which the electrodes may be coating. Infrared switches permit programming through the glass without the need to open the enclosure cover.
High speed pulse output: The pulse output can be programmed up to 10,000 pulses/second for high-speed applications such as short batch processes.
"Easy Setup" parameters: The most frequently used parameters are arranged in one location for easy, quick access.
AXF Series Magnetic Converter Specifications
Ambient Temperature
-40° to 140°F (-40° to 60°C)
Accuracy
as high as ±0.35% of rate
Optional high-accuracy calibration: ±0.2% of rate
Repeatability
0.1% of flow rate
Fluid Conductivity Threshold
0.1 µS/cm for sizes 0.5" – 4" (15 – 100mm)
1 µS/cm for sizes 6" – 8" (150 – 200mm)
Materials of Construction
Case and Cover: Aluminum alloy
Power Consumption
20W maximum (including AXF Remote Flowtube)
Output Signals
1 Current, 4 Transistor Contact (Pulse, Alarm, 2 Status)
Communications Signals
BRAIN or HART
Diagnostics
Empty pipe, Signal overflow, Coating alarm, Flow limit alarms, etc.
Options
Lightning protector, active pulse output, epoxy resin coating, etc.
---