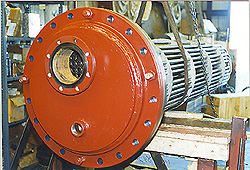 Stainless Steel Tube Bundle with Head
Request More Information
Heat Exchangers and Tube Bundles
We design and fabricate new shell and tube heat exchangers, as well as direct replacement and duplicate exchangers.
Built to ASME Section VIII, Division 1 requirements with 100% traceability, as well as per TEMA B, C, & R standards, all of our heat exchangers are constructed in-house, so you are assured of the quality performance you expect. We have helped our customers solve difficult fluid flow, heat transfer and corrosion problems with sophisticated material selection and creative fabrication designs.
Our Design and Fabrication Capabilities Include:
New & Replacement Units
4" Nominal to 60" Nominal
Shell & Tube Type Exchangers
Double-Wall Tube Heat Exchangers


Type BEM/BEU
Double Wall Vented Tube Type

Double Pipe Type Exchangers
Pressure Vessels
Aftercoolers
Replacement Fabricated Heads & Nozzles
Tanks & Weldments
Standard & Specialty Alloys

Two standard copper tube bundles:
3/4" Copper U-Tubes and Boltless
Carbon Steel Tubesheet
Our standard tube wall thickness selected is .049 (18 BWG). This is to provide our customers with a product that will last longer. Not only does this thickness meet our pressure and temperature ratings based on A.S.M.E. Code Calculations, it exceeds it. This results in a tube bundle with a greater expected life than the .035 wall (20 BWG) tubes used by many of our competitors. We do not believe in planned obsolescence!
Our standard tube bundle materials are carbon steel tubesheets, tube supports and baffles, and 3/4" OD x .049 wall copper or carbon steel U-tubes. We also stock a wide variety of materials to meet the requirements of many applications. In many cases, tube bundles using non-standard materials of construction can still be shipped on our usual 2 week production schedule. Alternate materials include:
Alternate Tubing Materials:
90/10 Cupro-Nickel
70/30 Cupro-Nickel
304 Stainless Steel (welded or seamless)
16 Stainless Steel (welded or seamless)
Admiralty Brass
Alternate Tubesheet Materials:
Naval Brass
304 Stainless Steel
316 Stainless Steel
90/10 Cupro-Nickel
70/30 Cupro-Nickel
Specialty high alloy and corrosion resistant materials are available.
With over 20 years of experience in the replacement tube bundle industry, we have accumulated a large database of dimensional data and materials of construction for other manufacturers' makes and models. Contact us with your current make and model number, and we will cross reference it.
We Cross-Reference the Following Manufacturers:
Adamson
American Standard
A. O. Smith
Armstrong
Bell & Gosset
Cemline
Graham
ITT Standard
Old Dominion
Patterson-Kelley
Reco
Taco
Thrush
Standard tube bundles ship 2 weeks after receipt of order and verification of dimensional data. Standard heat exchangers ship 5-6 weeks after receipt of purchase order and final drawing approval. Rush and Emergency shipments of 5 work days, 2 work days, and 24 hours are available.
All of our tube bundles are hydrostatic pressure-tested and verified by an authorized Quality Control Inspector prior to shipment. A cope of the Certification of Test is included with the shipment. MTRs are available upon request. ASME Stamps and Partial Data Reports are also available - please request them at the time of your inquiry. We also offer Double-Wall Vented Leak Detector Tube Bundles for domestic hot water and other applications where avoiding cross-contamination of the heat transfer media is critical. Please contact us for more information.
Ship your existing heat exchanger to us for a diagnostic and we will advise on how to proceed. Freight and inspection fees may apply.
Our Coils Carry ARI 410 Certification.
Fin Material

.006, .010 Aluminum
.006 Copper

Fin Spacing

3/8" OD Tubing – 10 to 22 fins per inch
1/2" OD Tubing – 10 to 16 fins per inch
5/8" OD Tubing – 4 to 16 fins per inch

Tube Material

3/8" OD x .016" Wall
1/2" OD x .016", .020" Wall
5/8" OD x .020", .025", .035", .049" Wall

Casings

16 Ga. Galvanized Steel
16 Ga. Stainless Steel
Aluminum
Copper

Headers

Type "L" from 7/8" OD to 4-1/8" OD Copper

Connections

Water & Steam Coils - Copper MPT Connections
DX Distributors - Standard or Hot Gas
DX, Condenser - Copper Sweat Connections
Optional Steel Connections - Threaded (MPT or FPT)
Supply Opposite End connections on Steam Dist. Coils

Brazing

All joints are hand-brazed

Testing

All coils are leak tested under water at 450 psig dry nitrogen (Meets UL burst test)

Other Options

Non-standard casing flange widths and depths
Special coil coatings
Additional distributors
Non-standard circuiting
Intertwined circuiting (DX Coils only)
Pitched casing