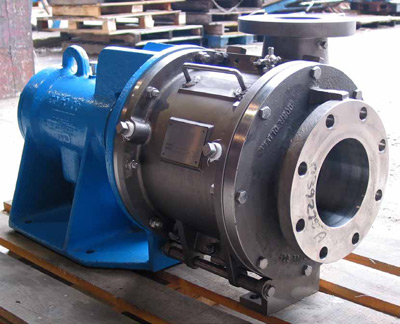 Dorr-Oliver 6X4X10 Gorator Macerating Pump
Request a Quote • Request Free Information
Dorr-Oliver 6X4X10/V Gorator Macerator Pump
Maximum Flow and Controlled Size Reduction
The Dorr-Oliver 6X4X10 Gorator provides maximum flow and controlled size reduction, complete mixing, stripping, dispersion or delumping in industrial applications.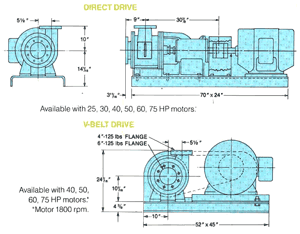 click to enlarge
6X4X10 Gorator Specifications:
Casing & Flange Construction: Cast 304 stainless steel
Rotor Plate & Liner Components Construction: Precision-cast and polished 17-4 PH abrasion-resistant stainless steel
Seal Assembly: Either lantern ring and packing or double mechanical seal
Rotor: 10" diameter, notched
Liner Bars: Grooved; discharge slots can be adjusted in 3/16" increments for highly variable process requirements
Inlet Diamater: 6"
Outlet Diameter: 4"
Horsepower: up to 100HP @ 1800 RPM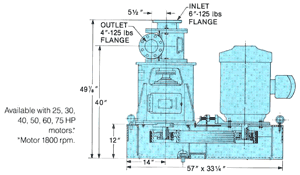 click to enlarge
6X4X10V Vertical Gorator:
The 6X4X10 Gorator is also available in a vertical configuration. Construction materials are as in the horizontal 6X4X10, but this machine is built in a vertical configuration to macerate chunky materials that do not flow easily. It may be connected directly to the bottom of a mixing vessel to accelerate mixing, dispersion and extraction due to the vortex action of the impeller. Available with packing construction as standard.