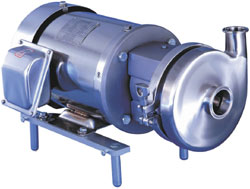 Ampco AC Series 3A Sanitary Pump
Request a Quote • Request More Information
Ampco Pumps Company
Ampco Pumps Company was founded in 1948 in Milwaukee, Wisconsin. Their first pump – a nickel aluminum bronze centrifugal marine pump – was a success, and today Ampco produces high-quality centrifugal pumps for a number of applications.
Ampco pumps can be found in a number of industries, including food and beverage processing, CIP / COP systems, reverse osmosis and desalinization systems, military and commercial marine applications, chemical procesing, and more.
Sanitary Pumps
Ampco Pumps manufactures several models of 3-A compliant sanitary centrifugal pumps, several of which are 100% interchangeable with pumps of other manufacturers, including Fristam, Waukesha, and Top-Flo.
Marine Pumps
Ampco's nickel aluminum bronze pumps are ideal for saltwater use, as well as brackish, wastewater and pollution control applications.
Industrial Pumps
The users of Ampco's heavy-duty stainless steel pumps are far-ranging: from power plants and chemical processors to wastewater treatment and metal plating facilities. These efficient pumps are available in a wide array of materials and configurations.
---