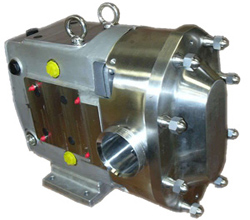 Ampco ZP3 3A CIP Pump
Request a Quote • Request Free Information
Ampco 3A Sanitary Pumps
Ampco's stainless steel sanitary pumps have been in use in dairy and food processing plants since 1957. Since then, Ampco Pumps have continually refined and broadened their sanitary pump lines, making them ideal for any number of applications. Now, there are several options to fulfill your sanitary centrifugal pump requirements. The ZP, AL, LC, AC, and MC3 Series sanitary pumps are all in compliance with 3A standards.
All of Ampco's sanitary pumps can be modified for different connections (flanges, NPT threads, bevel seat); improved surface finishes (to 10RA with electropolish); or to add optional casing drains.
Each assembled Ampco pump is tested prior to shipment to verify hydraulic, mechanical and electric performance. Lead time on standard pumps is one week or less.
ZP3 Series
Ampco's ZP3 Clean-In-Place (CIP) pumps offer in-line cleanability and high efficiency while retaining 100% interchangeability with ZP2 pumps and other leading brands.
ZP1+ Series

NEW!

Ampco's ZP1+ Series pumps are an enhanced redesign of the popular ZP1 pumps. ZP1+ O-rings can be changed without having to disconnect the pump from the piping system, which provides easy maintenance and reduced downtime.
ZP1 and ZP2 Series
Ampco's ZP1 and ZP2 Series pumps are rotary piston positive displacement pumps, are hydraulically and dimensionally interchangeable with other leading brands, and feature a stainless steel gear case.
AL Series
The 3A Sanitary and EHEDG-certified AL Series positive displacement rotary lobe pumps raise the bar for uptime reliability, ease of maintenance, and CIP performance.
SP Series
Ampco's SP Series pumps are self-priming and are hydraulically and dimensionally interchangeable with Fristam's FZX pump line.
AC Series
Economical, 3A-compliant, and 100% interchangeable with other "C" Series pumps, every AC pump includes a standard stainless steel adapter. The AC+ impeller shaft desgn provides more stable performance while retaining identical hydraulic and dimensional characteristics.
LC / LD Series
Hydraulically and dimensionally interchangeable with Fristam's competing FP / FPX product lines, each LC and LD pump includes a standard stainless steel adapter and a silicon carbide seal. Optional stainless steel bases match the Fristam FP footprint identically.
M Series
Ampco's M Series sanitary pumps were specifically designed for milk and dairy pumping operations. These heavy-duty and efficient pumps feature a clamped-in silicon carbide seat as standard.
D Series
The D Series is designed principally to pump sanitizing solutions for CIP and COP systems. These reliable pumps have been in service since the 1980s. The DV Series, with its unique double-volute design, is ideally suited for CIP return applications.
---