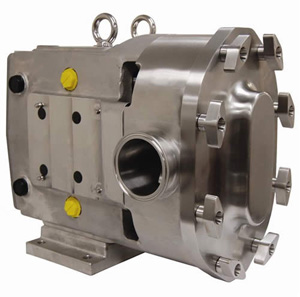 Ampco ZP2 Series Rotary Piston Pump
Request a Quote • Request Free Information
Ampco ZP1 and ZP2 Series Rotary Circumferential Piston Pumps
In this circumferential piston positive-displacement design, arc-shaped pistons travel in annular-shaped cylinders machined in the pump body. The resulting long sealing path reduces slippage and produces a smooth flow of product without destructive pulses or pressure peaks, and without valves or complex parts. Low-shear pumping action protects product from damage, and the low-slip operation provides excellent flow control and metering/filling capability. Santiary versions meet USDA and 3A sanitary standards.
The ZP1 and ZP2 Series rotary piston positive-displacement pumps are Ampco's newest. They are hydraulically and dimensionally interchangeable with other leading brands, and many common pump upgrades are included as standard. The most significant improvement is a 304 stainless steel gear case, standard on every ZP pump. The stainless gear case and all-stainless hardware provide high resistance to corrosion and compatibility with caustic agents – this eliminates rusting, chipping and peeling, and reduces harassment from plant inspectors!
The ZP1 series has been redesigned for easier maintenance and reduced downtime – click here to learn more about the ZP1+ Series.
Both ZP1 and ZP2 models can be rebuilt with oversized rotors to extend the pump's useful life. We offer several rebuild options – a complete rebuild, with new shafts, gears, bearings and rotors includes a one year factory warranty. Moreover, ZP1 pumps can be remanufactured as ZP1+ pumps.
Mounting Options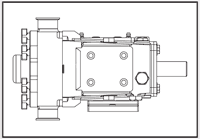 Side-Mount Left-Hand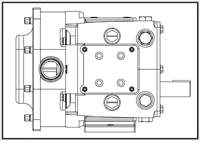 Upper Mount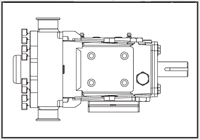 Side-Mount Right-Hand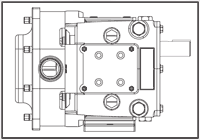 Lower Mount
ZP Series Standard Features:
Original Alloy 88 material rotors with nongalling appeal to maintain tight tolerances. Optional clearances available.
Solid 316L stainless steel shafts on small pumps and 17-4PH on larger pumps, providing twice the tensile strength of 316L.
Stainless steel bearing retainer prevents corrosion and enhances bearing protection.
Tapered roller bearings to maintain axial forces for equal support in both directions
Helical Timing Gears for increased load-carrying capacity and reduced noise.
Separate oil chamber for gears using anti-microbial lube as standard.
Sightglass oil plug.
Gear housing designed to mount pump in four positions.
Sealed cleanout plugs protect and extend bearing life.
Threaded grease Zirks for easy replacement.
Offering o-ring and mechanical seals to meet all your changing application needs.
Pump housing in constructed of 316L stainless steel and machined and polished to conform with 3A standards.
Cast solid 316L cover.
Capacity Range: 0.1 to 310 gpm (0.02 to 70.4 m³/hr)
Pressure Range: up to 500 psi / 34 bar
Temperature Range: -40°F tp +300°F (-40°C to +150°C)
Note: Hot clearances required for high-temp operation
Viscosity Range: 1 to 1,000,000 CPS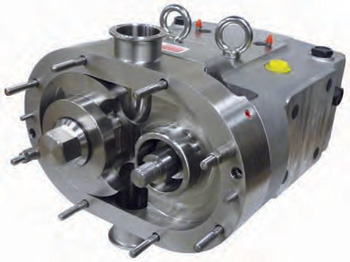 ZP2 Series pumps also feature inline cleanability
Bakery: batters, dough, fats and oils, fruit filling, icing, oils, yeast
Beverages: alcohol, wines and beer, wort, fruit concentrate, fruit juices, mash, soft drinks
Candy: chocolate, cocoa butter, corn syrup, gelatin, sugars
Canned Foods: baby food, jams, jellies, mayonnaise, potato salad, pudding, relish, stews
Cosmetics: creams, emulsions, jellies, lotions, shampoo, toothpaste
Dairy: butter, cream, curds, ice cream, margarine, milk, soft cheese, yogurt
Dressings: mayonnaise, many other sauces
Flavorings: concentrates, syrups
Industrial: auto paint, inks, latex, polymers
Meats: broth, fats, gelatin, pet foods, sausage fillings
Available Options:
| | | |
| --- | --- | --- |
| | | |
| Rectangular Flange Inlet | Jacketed Heating Cover | Pressure Relief Valve |
ZP Series & Competitors Comparison

Component
Ampco Pumps
Waukesha Cherry Burrell
Wright Flow Technologies
Stainless Gear Case
yes
no
no
Stainless Bearing Retainers
yes
no
yes
17-4PH H1150 Shafts
yes
no
yes
Helical Gears
yes
no
yes
4-Way Mounting
yes
no
yes
Multiple-Access Grease Fittings
yes
no
yes
Threaded Grease Fittings
yes
no
no
Solid Wave Spring
yes
no
yes
Antimicrobial Lubricant
yes
no
yes
6 Oil Fill Plugs
yes
yes
no
Oil Sight Glass
yes
yes
no
Gasketed Clean-Out Plugs
yes
no
no
ZP1 Pump Performance

Model
Nominal Capacity
Displacement
Max. Differential Pressure
Temperature Range
Standard Connection Size
Optional Connection Size
Max. Speed
GPM
M³/hr
Gallons / 100 rev
Liters / rev
PSI
Bar
°F
°C
in.
mm
in.
mm
Rev / min
ZP1 6
6.0
1.3
0.8
0.030
200
14
-40° to 300°
-40° to 150°
1½"
40
1"
25
800
ZP1 15
9.0
2.0
1.4
0.052
200
14
-40° to 300°
-40° to 150°
1½"
40
-
-
700
ZP1 18
17.0
3.8
3.0
0.110
200
14
-40° to 300°
-40° to 150°
1½"
40
2"
50
600
ZP1 30
36.0
8.2
6.0
0.230
200
14
-40° to 300°
-40° to 150°
1½"
40
2"
50
600
ZP1 60
90.0
20.4
15.0
0.580
200
14
-40° to 300°
-40° to 150°
2½"
65
3"
80
600
ZP1 130
150.0
34.1
25.0
0.960
200
14
-40° to 300°
-40° to 150°
3.0
80
4"
100
600
ZP1 180
230.0
52.2
38.0
1.450
200
14
-40° to 300°
-40° to 150°
4.0
100
-
-
600
ZP1 220
310.0
70.4
52.0
1.980
200
14
-40° to 300°
-40° to 150°
4.0
100
-
-
600
Model
Nominal Capacity
Displacement
Max. Differential Pressure
Temperature Range
Rec. Inlet
(W x L)
Outlet
Max. Speed
GPM
M³/hr
Gallons / 100 rev
Liters / rev
PSI
Bar
°F
°C
in.
mm
in.
mm
Rev / min
ZP1 34
24.0
5.4
6.0
0.22
200
14
-40° to 300°
-40° to 150°
1.75 x 6.75
44.50 x 171.45
2"
50
400
ZP1 64
60.0
13.6
15.0
0.57
200
14
-40° to 300°
-40° to 150°
2.24 x 8.82
56.90 x 224.03
2½"
65
400
ZP1 134
100.0
22.7
25.0
0.96
200
14
-40° to 300°
-40° to 150°
2.97 x 9.25
75.44 x 234.95
3"
80
400
ZP1 224
200.0
45.4
52.0
1.97
200
14
-40° to 300°
-40° to 150°
3.87 x 11.00
98.30 x 279.40
4"
100
400
ZP2 Pump Performance

Model
Nominal Capacity
Displacement
Max. Differential Pressure
Temperature Range
Standard Connection Size
Optional Connection Size
Max. Speed
GPM
M³/hr
Gallons / 100 rev
Liters / rev
PSI
Bar
°F
°C
in.
mm
in.
mm
Rev / min
ZP2 6
8.0
1.8
0.8
0.030
300
21
-40° to 200°
-40° to 93°
1½"
40
1"
25
800
ZP2 15
11.0
2.5
1.4
0.052
250
17
-40° to 200°
-40° to 93°
1½"
40
-
-
700
ZP2 18
20.0
4.5
3.0
0.108
200
14
-40° to 200°
-40° to 93°
1½"
40
2"
50
600
ZP2 30
36.0
8.2
6.0
0.227
250
17
-40° to 200°
-40° to 93°
1½
40
2"
50
600
ZP2 45
58.0
13.2
10.0
0.366
450
31
-40° to 200°
-40° to 93°
2"
50
-
-
600
ZP2 60
90.0
20.4
15.0
0.568
300
21
-40° to 200°
-40° to 93°
2½"
62
3"
80
600
ZP2 130
150.0
34.1
25.0
0.946
200
14
-40° to 200°
-40° to 93°
3"
80
4"
100
600
ZP2 180
230.0
52.2
38.0
1.450
450
31
-40° to 200°
-40° to 93°
4"
100
-
-
600
ZP2 220
310.0
70.4
52.0
1.950
300
21
-40° to 200°
-40° to 93°
4"
100
-
-
600
ZP2 210
Available Soon
ZP2 320
Available Soon
ZP2 323
Available Soon
Model
Nominal Capacity
Displacement
Max. Differential Pressure
Temperature Range
Rec. Inlet
(W x L)
Outlet
Max. Speed
GPM
M³/hr
Gallons / 100 rev
Liters / rev
PSI
Bar
°F
°C
in.
mm
in.
mm
Rev / min
ZP2 34
24.0
5.4
6.0
0.22
250
17
-40° to 200°
-40° to 93°
1.75 x 6.75
44.50 x 171.45
2"
50
400
ZP2 64
60.0
13.6
15.0
0.57
300
21
-40° to 200°
-40° to 93°
2.24 x 8.82
56.90 x 224.03
2½"
65
400
ZP2 134
100.0
22.7
25.0
0.96
200
14
-40° to 200°
-40° to 93°
2.97 x 9.25
75.44 x 234.95
3"
80
400
ZP2 224
200.0
45.4
52.0
1.97
300
21
-40° to 200°
-40° to 93°
3.87 x 11.00
98.30 x 279.40
4"
100
400
---