Grundfos CR
Vertical In-Line Centrifugal Pumps
The CR pump series covers a performance range unmatched by any other pump manufacturer in its field with pumps suitable for a variety of applications – from drinking water to high viscosity liquids. Grundfos' unique hydraulic design and new production techniques allow the CR to offer the highest efficiency of any multi-stage centrifugal pumps in the world – a considerable advantage to the operating efficiency of large pumps.
Grundfos Motor
Grundfos makes its own motors to ensure maximum performance. The MG motors are remarkably silent and highly efficient. They are also available in the self-regulating MGE configuration, featuring an integrated frequency converter.
Cartridge Seal
The specially designed cartridge seal increases reliability, ensures safe handling and enables easy service and access.
Shaft Seal Solutions
The cartridge shaft seal configuration comes in a wide choice of materials. It is available in flushed seal, double seal and magnetic drive configurations. Handles temperatures from -40°C to 180°C.
Connection Options
The Grundfos CR can be connected to any system.
Dry-Running Sensor
The patented Grundfos LiqTec system eliminates the risk of breakdowns due to dry running. If there is no liquid in the pump, the LiqTec will immediately stop it.
High-Performance Hydraulics
Pump efficiency is maximised by state-of-the-art hydraulic design and carefully crafted production technology.
Durable Bearings
The CR bearings are remarkably long-lived thanks to hard-wearing materials and a wide range of options for difficult liquids.
Material Options
The CR is available in four different materials: titanium, stainless steel AISI 316, stainless steel AISI 304, and AISI 304/cast iron.
Wide Range of Sizes
The CR comes in 11 flow sizes and hundreds of pressure sizes, ensuring that you can always find exactly the right pump for the job.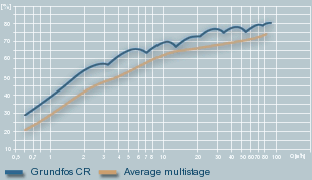 Industrial applications typically require long operating periods. Grundfos CR pumps are ideally suited for this sort of application due to their very high efficiency ratios – greater than 80%. Series CR Pumps are also available with Grundfos MLE fully integrated variable speed motors through 10 HP. Variable speed significantly reduces energy consumption in dynamic applications.
These days, pumps have evolved to a point where extremely small margins decide their final efficiency level. Always keen to accept a challenge, the Grundfos hydraulic engineering teams have carried out painstaking research into fluid dynamics to break new ground and find new ways to improve the CR. The result of their development work is very concrete: a 10% increase in pump efficiency. This translates into a power reduction of 15-20% for the CR pumps. When your pumps are in operation many hours a day, such improvements provide substantial savings – year in and year out.
Application
Typical Duty
Operating Hours Daily
Average KWh Reduction with CR
Water Supply
80 m³/h @ 6 bar
24 hours
18,500 KWh
Boiler Feed
40 m³/h @ 15 bar
15 hours
12,700 KWh
Water Treatment
2 m³/h @ 15 bar
15 hours
3,200 KWh
Industrial Washing & Cleaning
6 m³/h @ 15 bar
5 hours
1,600 KWh
General Industrial Pump Tasks
6 m³/h @ 10 bar
10 hours
2,200 KWh
---