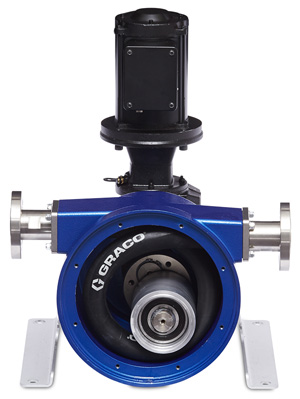 SoloTech Peristaltic Hose Pump,
front cover removed to show single roller
Request a Quote • Request Free Information

Graco's SoloTech peristaltic hose pumps use a single roller that compresses an engineered hose through a full 360 degrees of rotation. This innovative design means longer hose life when pumping caustic, abrasive, or sensitive materials for metering or transfer.
SoloTech Peristaltic Pump Features:
More flow per revolution than conventional designs
Inexpensive to maintain – no valves, seals or glands
Pumps are reversible and can be used to empty lines or clear blockages
Extended hose life – only one hose compression per revolution
What Are You Pumping?
It's critical to choose the right pump for your applicaton. Hose and barb failures are caused by poor chemical compatibility or excessive wear, leading to unexpected downtime. Our experts will help you select the correct pump to prevent these failures in the field.
And if you need more assurance, consider this: the SoloTech series' brushless DC pump will remind you when it's time to change the hose, before a failure shuts your process down!
SoloTech Hose Cutaway View
Hose Design
With only the hose in contact with the fluid, and no check valves in line, Graco's SoloTech peristaltic pumps are ideal for materials that other pumps cannot handle. Abrasive, corrosive, shear-sensitive, and gas-entrapped fluids can easily be pumped or dosed into your application.
Moreover, Graco offers four different hose materials in order to meet the requirements for your specific application:
SoloTech Hose Material Comparison

Hose Material
Stripe Color / Inside Color
Max. Fluid Temperature
Application Area
Natural Rubber (NR)
None / Black
160°F (71°C)
Abrasives
Chlorosulfonated Polyethylene (CSM)
Orange / Black
250°F (121°C)
Highly corrosive chemicals
Nitrile
Yellow / Black
220°F (104°C)
Oils or oily products
Ethylene Propylene (EPDM)
Blue / Black
250°F (121°C)
Corrosive chemicals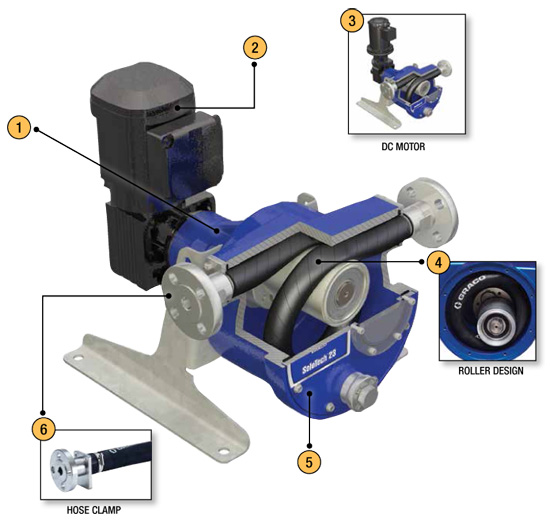 SoloTech Hose Pump Feature Diagram
SoloTech Hose Pump Features and Improvements:
Pump Construction


Cast aluminum housing reduces pump weight
Improved mounting flexibility with sheet metal feet

Electric Motor


Choose between AC and Brushless DC models
Multiple gearbox offerings to meet your exact flow rate needs
Hazardous location motors available

DC Motor


Pressure control
Batching dispense mode
Wider operating range means fewer gearbox options

Roller Design


Single roller design improves hose life byu reducing the number of compressions, temperature, and friction
New metallic roller with bearings provides constant compression and flow

Removable Cover


Aluminum covers with larger sight window makes it easy to access internal parts
Optional leak detector kit mounts on cover

Hose Clamp Assembly


Upgraded hose barb and clamp assembly
Easy to install or remove – no special tools needed
Available with PVDF and SST barbs options
SoloTech Hose Pump Technical Specifications

Characteristic


units

SoloTech 10
SoloTech 23
Hose Size
10 mm
12 mm
Max Flow


gpm (lpm)

92 RPM = 0.685 (2.60)
94 RPM = 4.75 (17.98)
Flow


gallon/rev (liter/rev)

0.007 (0.0265)
0.050 (0.190)
Pump Speed Range
Low
Mid
High
Low
Mid
High
Gearbox Ratio
157:1
48:1
19.5:1
157:1
48:1
19.13:1
Horsepower
0.25
0.50
0.75
0.25
0.75
1.00
Pump Speed @ 60Hz


RPM

11
37
92
11
37
94
Flow Rate @ 60Hz


gpm (lpm)

0.085
(0.32)
0.27
(1.02)
0.685
(2.60)
0.57
(2.16)
1.89
(7.15)
4.75
(17.98)
Maximum Working Pressure
125 psi (8.6 bar)
125 psi (8.6 bar)
Maximum Suction Lift


ft (m)

29 (8.9)
29 (8.9)
Pump Inlet / Outlet Size
DIN PN16 010 - 3/8 in,
ANSI 150 1/2 NPS,
JIS 10K 010
DIN PN16 020 - 3/4 in,
ANSI 150 1 NPS,
JIS 10K 020
Characteristic


units

SoloTech 26
SoloTech 30
Hose Size
26 mm
30 mm
Max Flow


gpm (lpm)

93 RPM = 10.18 (35.84)
91 RPM = 16.0 (60.57)
Flow


gallon/rev (liter/rev)

0.109 (0.412)
0.175 (0.662)
Pump Speed Range
Low
Mid
High
Low
Mid
High
Gearbox Ratio
145:1
47:1
19.27:1
150:1
48:1
19.7:1
Horsepower
0.33
1.00
2.00
0.50
1.50
3.00
Pump Speed @ 60Hz


RPM

12
38
93
12
37
91
Flow Rate @ 60Hz


gpm (lpm)

1.35
(5.11)
4.18
(15.82)
10.18
(38.54)
2.1
(7.95)
6.55
(24.80)
16.0
(60.57)
Maximum Working Pressure
125 psi (8.6 bar)
125 psi (8.6 bar)
Maximum Suction Lift


ft (m)

29 (8.9)
29 (8.9)
Pump Inlet / Outlet Size
DIN PN16 020 - 3/4 in
ANSI 150 1 NPS
JIS 10K 020
DIN PN16 025 - 1 in
ANSI 150 1-1/4 NPS
JIS 10K 025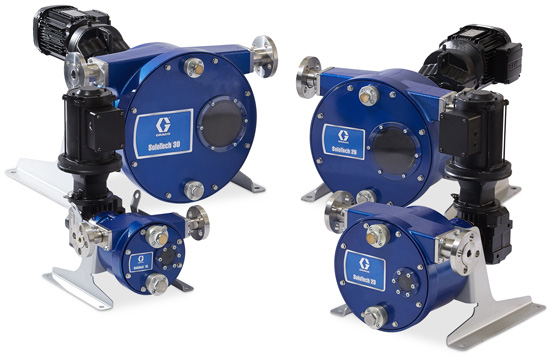 SoloTech Hose Pump Family
Request a Quote • Request Free Information
---