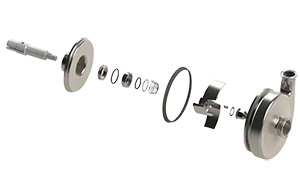 Ampco CB+ Craft Brew Pump
Request Free Information
Ampco CB+ Craft Brew Pumps
Fewer leaks, lower costs
Ampco's CB+ pump was designed specifically for the craft brewing industry and the aficionados who are passionate about creating their signature brews, not dealing with leaking pumps.
The CB+ features a sanitary internal seal design that keeps seal faces coolar and minimizes product buildup. Dry-running external mechanical seals on standard "C Series"-style pumps is unavoidable when pumping wort at temperatures near boiling. Flashing will occur between seal faces, resulting in leaks. The CB+ minimizes these problems in deveral ways:
The internal seal is submersed in the product to promote cooling.
Pressure within the pump will create higher closing force on the balanced seal faces to minimize product buildup.
The internal spring will help agitate wort solids, keeping them from pooling at the seal faces.
"We recently installed a couple of CB+ seals from Ampco Pumps on our Kettle and Mash Tun pumps. Once Ampco Pumps knew of the problem with the old seals, they provided this new seal system to us as soon as they could, and kept us up-to-date on the status of the replacement.
The seals have been running leak-free for several months, which has been awesome since the old seals would leak within 1 to 2 weeks."
— John West, Head Brewer, Lone Tree Brewing Company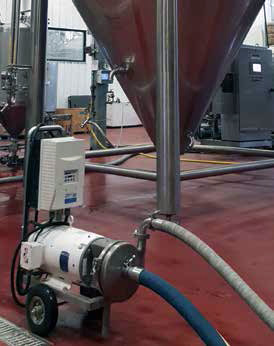 CB+ Brew Pump in action
Low cost
316L Stainless Steel construction
Stainless steel adapters are standard
One week delivery
Ampco also offers two CB+ conversion kits, allowing existing C Series and AC+ pumps to be converted to CB+ pumps:
CB+1 Kit: Convert an Ampco AC+ pump to a CB+ simply by replacing the seal and backplate.
CB+2 Kit: Convert Ampco AC and competing C Series pumps with this kit – includes backplate, seal, stub shaft, collar, o-ring, impeller, and nut.
CB+ Model Specifications

Model
Inlet
Outlet
Maximum Impeller
CB+ 114
1.5" – DIN 40
1.5" – DIN 40
4" – 102mm
CB+ 214
2.0" – DIN 50
1.5" – DIN 40
4" – 102mm
CB+ 216
2.0" – DIN 50
1.5" – DIN 40
6" – 152mm
CB+ 316
2.5" – DIN 65
1.5" – DIN 40
6" – 152mm
CB+ 218
2.0" – DIN 50
1.5" – DIN 40
8" – 203mm
CB+ 318
3.0" – DIN 80
1.5" – DIN 40
8" – 203mm
CB+ 328
3.0" – DIN 80
2.0" – DIN 50
8" – 203mm
CB+ 428
4.0" – DIN 100
2.0" – DIN 50
8" – 203mm
CB+ 4410
4.0" – DIN 100
4.0" – DIN 100
10" – 254mm
CB+ 6410
6.0" – DIN 150
4.0" – DIN 100
10" – 254mm
---