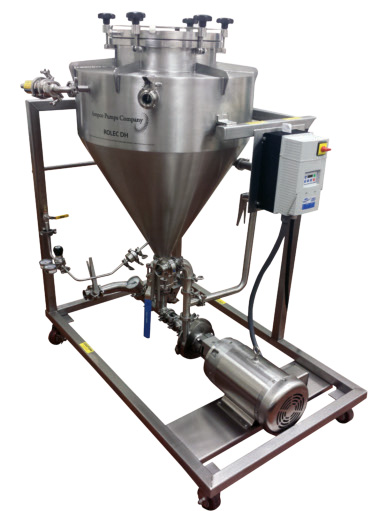 Ampco DH270 Dry Hopping System
Request Free Information
Ampco ROLEC DH Dry Hop Induction Systems
Dry hopping just got easier
Ampco's ROLEC DH line of dry hopping systems are fully portable units containing everything necessary for dry hop induction. ROLEC DH systems use an Ampco SBI shear pump to simultaneously induce dry hop pellets directly into the stream of beer and recirculate a fermenter. The hop chamber holds pellets in an oxygen-free pressurized environment using carbon dioxide. Pellets can be induced into fermenting, finished, or crashed beer. The pellets are reduced to the proper size, allowing the hops to settle during the holding period allowing for maximum exposure, aroma, and flavor profiles.
2 models available
A glass-top manway allows the user to ensure the pellets are moving
Gauges and sight glasses aid the user in monitoring induction and pressures
Everything needed for pellet induction is contained on the ROLEC DH
All components are sanitary and CIP-able (no additional CIP pump is required)
The fully portable DH can be used on many fermenters and fits well in cramped cellars
Recirculation can be done as long as desired (Ampco recommends 3-4 fermenter turnovers)
Improved aroma and flavor profile
CB+ Model Specifications

Model
Pellet Capacity
Pump
Recirculation / Minute
Port Size
Motor
DH45
44 lbs / 20 kg
SBI-R10
2.9 bbls / 3.4 hectoliters
2" x 1.5"
5 hp / 4 kW
DH90
88 lbs / 40 kg
SBI-R10
2.9 bbls / 3.4 hectoliters
1.5" / DIN 40
5 hp / 4 kW
DH250
264 lbs / 120 kg
SBI-R20
3.7 bbls / 4.3 hectoliters
2" / DIN 50
10 hp / 7.5 kW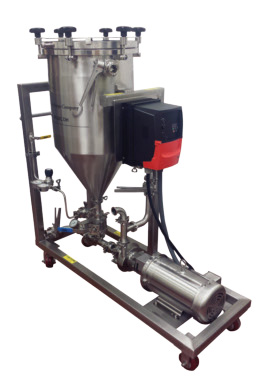 ROLEC DH90 Dry Hopping System
Request Free Information
Base material 304 stainless steel, wetted parts 316L stainless steel
Both models include VFD with integrated on/off breaker, the standard VFD is NEMA4X for use in washdown environments
Stainless steel casters
The unit can CIP with or without a sprayball due to its internal whirlpool system. (Sprayball for the hop chamber is optional)
Standard 50'/15m cord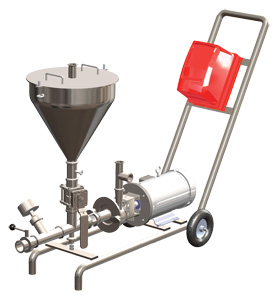 ROLEC DH45 Dry Hopping System
Request Free Information
ROLEC DH45 – Simple and Cost-Effective Dry Hopping for the Smaller Brewer
Ampco also offers the ROLEC DH45, a smaller, simpler version of the DH90 and DH250 dry hopping systems. Now breweries of any size can enjoy the many benefits of efficient and safe dry hopping. The DH45, like its bigger brothers, also uses an Ampco SBI shear pump to recirculate the fermenter, induce dry pellets, and blend. This process maximizes pellet dispersion, flavor and aroma. Increased surface area and forced contact results in decreased tank-time and, in many cases, greater yield. An integrated CO₂ inlet on the funnel creates a "CO₂ blanket" over the hops and mitigates oxygen contact.
---