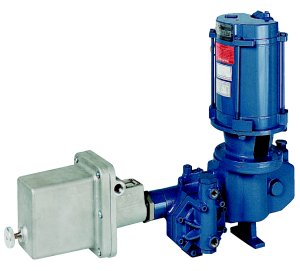 Electronic Stroke Control
Electronic Stroke Control
The Neptune Electric Stroke Control allows the capacity of any Neptune Series 500, Series 600 or Series 6000 "dia-PUMP" to be automatically controlled in response to a standard 4-20 mADC process signal. Alternate inputs are 0-5 VDC / 0-10 VDC signal or incremental contact closures. One-piece controller-positioner mounts directly to the pump. No machining or any special drillings or tappings needed to retrofit pump.
Ideal for water/wastewater, power and process industry applications – anywhere that pump flow must be automatically proportioned or varied.
Features:
Microprocessor based digital design.
Permanently lubricated, maintenance free.
Unrestricted duty cycle.
Input signal adjustments:
– Zero and span settings unlimited
– Adjustable dead band
– Adjustable upper and lower limits
Signal interruption "memory." If process signal is lost, unit can remain in its last position or move to a preset position.
Multiple units can be wired in series or parallel.
Alarm function monitors: 1) movement to max/min preset limits; 2) movement to adjustable upper/lower limits. Gives early warning to malfunctions or process upsets, allows for quick corrective actions.
Manual operation if power or signal is lost
Stroke position indicator on controller. Permits fast, easy visual check of pump stroke length.
Separate signal and power entrance connections to terminal blocks.
Specifications:
NEMA 4 (IP65) or Explosion-Proof (Class I, Division 1, Groups C & D; dust & ignition-proof rated Class II, Division 1, Groups E, F & G)
Power supply: single phase 120/240 VAC (switch selectable), 50/60 Hertz, 18 VA load
Operating temperature: 0°F to 150°F
Input signal: 4-20 mADC or 0-5 VDC or 0-10 VDC switch selectable. Also accepts incremental contact closures (dry contacts).
Output: isolated 4-20 mADC; loop-powered, up to 800 OHM load at 24V
Precise pump stroke positioning accurate to ±0.75%
Solid state limit switch outputs with LED status indication (for alarms or process control)
Limit switch rating: open collector 40 mA max. @ 40 VDC
You can download product information for the Neptune Electronic Stroke Control line (PDF format) here:
Data Sheet (specifications, performance charts & dimensions)
---