The Dorr-Oliver ODS is an air-operated single diaphragm pump. Because it is a diaphragm pump, it is superior to centrifugal and helical screw pumps for heavy-duty performance. And because it is air-operated, the ODS is significantly superior to mechanically or hydraulically operated models due to its simplicity of control and even power distribution.
The ODS pump is designed and built for long-term heavy-duty performance, year after year. It weighs two to three times more than many comparable air-operated double-diaphragm pumps, lasts far longer, and pumps slurries that no other unit can handle. The ODS really doesn't have an equal!
Contact us to learn how your process can benefit from ODS pumps.
The ODS air-operated single diaphragm pump will efficiently transfer anything that moves through a pipe, such as:
Delicate crystal slurries
Highly concentrated and unusually viscous slurries
Highly abrasive slurries
Highly corrosive slurries
Very large solids in slurries
Extremely volatile slurries
Delicate and unstable slurries
Air-entrained slurries
Shear-sensitive slurries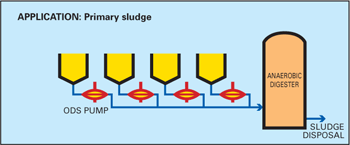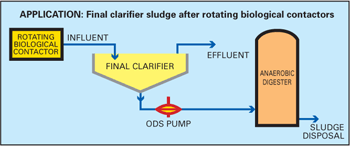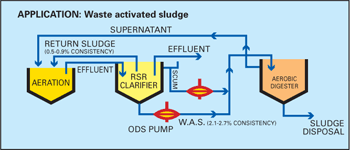 Pulse Transfer Thickening: Another ODS Pump Advantage
Besides all its other qualities, the ODS pump does things to improve sludge handling that no other pump can do. It's called "constant peak-velocity pulse transfer thickening" – in other words, no matter how much the pumping rate is reduced, the ODS pump will continue to deliver constant peak scouring velocity. This effect ends dilution of most sludges, including municipal sewage, primary clarifier underflow, aerated biological wastes, digested sludges and so on.
ODS pumps provide constant pumping velocity at all pumping rates. Pumping rates are matched to sludge accumulation rates, which in turn improves the operation of all the processes in a line.
ODS Additional Features & Benefits:
Can be automated to match capacity to process requirements for maximum process efficiency.
Able to be operated dry indefinitely. Cannot air bind, has no stator to burn out and no seal to fail.
Seal-less design makes contamination of process slurry or the environment from seal leaks impossible.
Adjustable while in operation for maximum flexibility for both capacity and discharge pressure.
Low maintenance – once installed, the ODS pump requires almost no attention.
Can handle tough corrosives, abrasives, temperatures to 200°F and slurries containing up to 75% solids.
Rhythmic plunger-type action minimizes particle degradation of even the most delicate materials.
Operation is completely leak-proof.