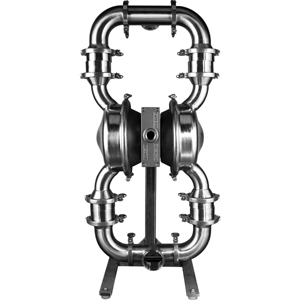 Wilden Saniflo HS 3" AODD Pump
Request Free Information
Wilden Saniflo Air-Operated Double-Diaphragm Pumps
Wilden's Saniflo pump line is specifically designed to meet the strict requirements of sanitary process applications. Saniflo pumps incorporate a straight flow-through design, large solids passage, and efficiencies to ensure process success. Saniflo pumps are constructed of passivated stainless steel, employ Tri-clamp style fittings, and are offered in various sizes and surface finishes. Saniflo pumps are also CIP (clean in place) and COP (clean out of place) capable, for ease of use and maintenance.
Saniflo pumps meet the highest standards in the industry, including EHEDG, 3A, CE, ATEX, USP Class VI, and FDA CFR 21.177. These pumps are capable of efficiently pumping a wide range of viscosities, solids, and shear-sensitive products.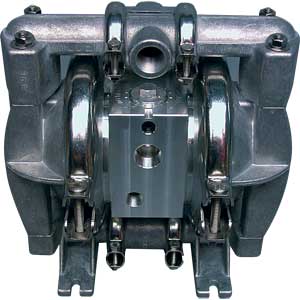 Wilden Saniflo FDA 1/2" AODD Pump
Wilden Saniflo Features:
Air operated (non-electrical)
Superior product containment
Bolted and clamped liquid paths
Self priming / dry priming
No damage when run dry
Deadhead without damage
Variable flow and pressure
High viscosity
Intrinsically safe by design
Lube-free operation
Shear sensitive product handling
Large solids passage
Low water requirements
Low product degradation
Ease of operation and maintenance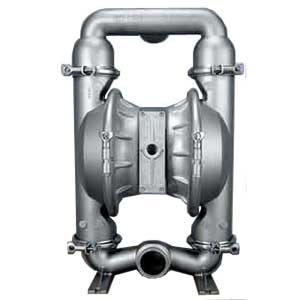 Wilden Saniflo FDA 1/2" AODD Pump
Wilden Saniflo Applications:
Sauces, Purees & Beverages
Poultry, Fish & Meat process
Fruits, Vegetables & Condiments
Ingredient receiving / unloading
Batch / load cell metering
Pharmaceutical products
Health & Personal Care products
Chromatography, Separation, Purification
High Purity product transfer
Filter press feed pumps
Acids, Solvents, Caustics & Alcohols
Abrasive Media & Solids
Chemical injections & Metering
Waste Water transfer
CIP, SIP, COP
Saniflo Application Guide
Saniflo FDA Pumps
Saniflo Hygienic Series Pumps
Saniflo HS Pharma Pumps
Sanitary Application Range
High acid, high sugar, high fat food
Low-acid, pasteurized, and protein-based products
Bio-Pharmaceutical sterile processes
Cleaning
Method
COP
COP / CIP
COP, CIP / SIP
Product Examples
Sweeteners, icings, juices, fruit ingredients, some sauces
Milk-, meat-, egg-, and vegetable-based products, personal care products
Active pharmaceutical ingredients, cosmetics, live cultures
Certifications
FDA
FDA, EHEDG, 3A,
USP Class VI
USP Class VI
Polish
Levels
Ra 1.3 µm (125 µ-in)
Ra 0.8 µm (32 µ-in)
Ra 0.4 µm (15 µ-in)
Note: Application requirements can vary depending on viscosity and operational parameters.