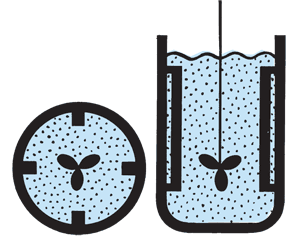 Figure 3: For mixing in larger tanks, the mixer is often placed vertically on-center. In this configuration, baffles are recommended to prevent the contents of the tank from rotating, to avoid vortexing, and to achieve good mixing and top-to-bottom turnover.

In most applications involving small mixing tanks of 1000 gallons or less, the mixer is clamped to the side of the tank. Optimum mixing will be achieved when the mixer is angled from the tank wall, either off-center (figure 1) or on-center (figure 2). Improperly mounting a portable mixer will greatly lessen mixing efficiency, cause vibration and could possibly damage the mixer.
Angling off-center is preferred when good material turnover is required, as in mixing a slurry. Angling on-center is desired for more gentle mixing and when vortexing must be minimized.
Larger size tanks may require that a mixer be mounted directly in the center of the tank with the shaft vertical (figure 3). When a mixer is used in this arrangement, baffles are recommended to prevent the contents of the tank from turning in the direction of the mix. If this occurs, mixing action will be poor.
Such baffling will avoid vortexing and allow mixing to be as thorough as possible. Neptune suggests that four baffles be used, located 90° apart and sized approximately 1/12 of the tank diameter. The baffle should not fully extend to the bottom of the tank and a gap should be provided between the baffle and the tank wall.
For assistance in choosing a mixer or to help solve your mixing problems, please contact us.